Healthy Schools
&

the Clorox Total 360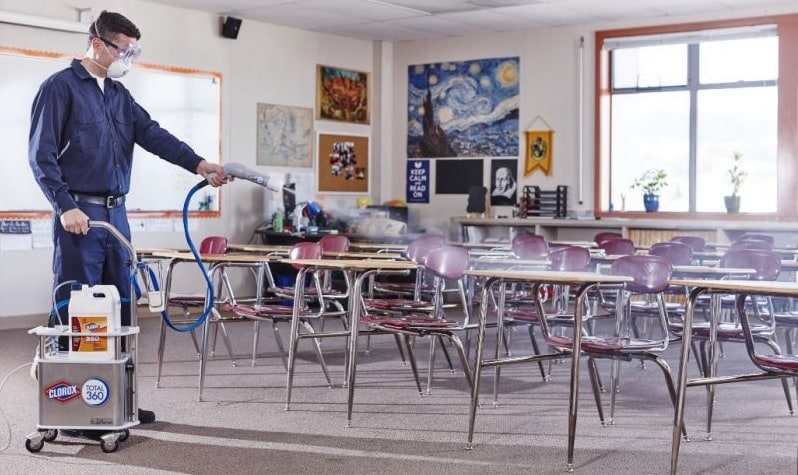 The U.S. Department of Education refers to absenteeism in the nation's schools as "a hidden educational crisis." Schools should be a place where young minds flourish, not where illness causing viruses and bacteria reside.
Unfortunately, though, schools consist of thousands of hard to reach surfaces covered in pathogens than can spread disease and are also difficult to disinfect, increasing both financial and human risk.
The good news is that we can directly link cleaner, healthier schools to reducing absenteeism rates. This gives YOU the ability to delve deeper into the issue at hand and solve several problems by properly and completely disinfecting our schools. For example, with the proper cleaning solutions, immediately the following issues are directly addressed:
Limited Time – Most schools operate about 40 hours a week, not including after school and sports activities, leaving limited time each day to properly clean and disinfect hallways, locker rooms or gymnasiums.
Limited Labor – Traditional disinfecting methods, such as a spray bottles, foggers and mops, offer only limited coverage.
Excessive Costs – Teacher absences cost schools an average of $25 Billion annually and 60 million student absences each year from cold and flu cost schools $4.2 billion in lost resources.
Introducing The Clorox 360 System
South Jersey Paper Products has partnered with Clorox to offer the first system that pairs an electrostatic sprayer with a portfolio of Clorox disinfectants and sanitizers, giving you a revolutionary way to reach and kill pathogens with a force even greater than gravity itself.
Electrostatic technology enables superior coverage of Clorox trusted solutions in the hardest to reach places- the sides, underside and backside of surfaces. Using the Clorox Total 360 and the appropriate Clorox-approved product for cleaning, sanitizing or disinfecting, results in a healthier facility by reducing the causes and costs associated with illness. Key features include:
Efficiency – The Clorox 360 System cleans and sanitizes 4 times faster than a traditional clean.
Superior Coverage – Human Error due to lack of time is no longer an issue when using the Clorox 360 system. The electrostatic technology provides superior coverage: 18,000 feet/ hour to be exact, compared to 3,900 feet/hour with a trigger spray.
Cost Effectiveness – 65% less solution is used to clean a facility than otherwise would be.
Besides the cleaning and maintenance of your facilities, South Jersey Paper Products provides many other products used in your daily operations. Reach out to us! Visit our contact page today! Or give us a call at 1-800-232-6927.